06 août 2008
REMEMBER MARILYN 5 AOUT 1962
Je tiens ici avec un peu de retard à adresser à Norma Jeane toute mon affection, elle est toujours dans mon coeur et dans le votre et je sais qu'elle n'en sortira jamais

Repose en paix Norma Jeane

=====================================


Rest in peace Norma Jeane

you'll be in my heart forever

Love





Caterina
01 juin 2008
Marilyn Birthday Video
Happy Birthday Sweet Norma Jeane
Pour cette femme à jamais dans nos coeurs
For this woman who will be forever in our hearts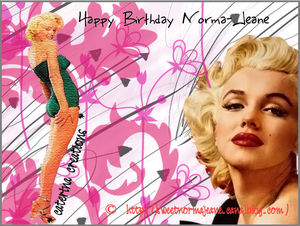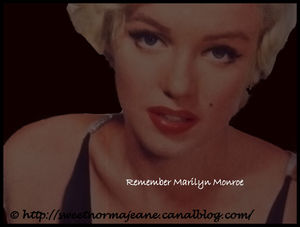 02 avril 2008
Pour ceux qui souhaiteraient continuer le voyage dans mon monde sur Marilyn, voici le lien vers mon forum

Cliquez sur la vignette / Click on the pic to enter my forum



30 mars 2008
Mes colorisations / My colorizations
Dans l'album "colorisations", je vous propose de découvrir mes travaux de restauration et colorisation de photos de Marilyn. J'adore en effet donner vie à ces images et essayer d'imaginer comment se passait la scène au moment du cliché.
In the album "colorization", I want you to take a journey into my works of restauration and colorization of Marilyn Monroe's black and white pics.
I love to bring back to life the photos and try to imagine how it was at the time the photo was being shot.
™2006 Marilyn Monroe LLC. The name, image and likeness of Marilyn Monroe™ are the exclusive property of Marilyn Monroe LLC. Marilyn Monroe™ and Norma Jean™ are trademarks of Marilyn Monroe LLC. Licensed by CMG Worldwide/www.marilynmonroe.com


Il est strictement interdit de reproduire, copier, voler ou modifer mes créations -It is forbidden to steal, copy or modify my creations without my permission / © caterina creations 2008
29 mars 2008
Marilyn Monroe Wallpapers
Voici quelques créations de Marilyn que j'ai réalisées avec Paint Shop Pro et Photoshop.
These are wallpapers I have created with Paint Shop Pro and Photoshop
CLICK TO ENTER THE ALBUM
Notes :


™2006 Marilyn Monroe LLC. The name, image and likeness of Marilyn Monroe™ are the exclusive property of Marilyn Monroe LLC. Marilyn Monroe™ and Norma Jean™ are trademarks of Marilyn Monroe LLC. Licensed by CMG Worldwide/www.marilynmonroe.com

Il est strictement interdit de reproduire, copier, voler ou modifer mes créations -It is forbidden to steal, copy or modify my creations without my permission / © caterina creations 2008